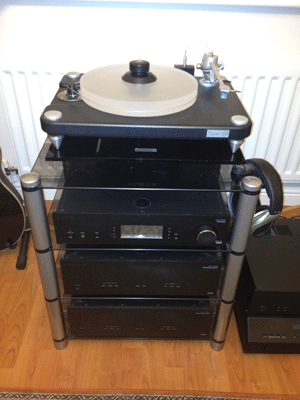 100% POSITIVE FEEDBACK ON EBAY FOR VINYL CLEAR FLUID

I've used a VPI 16.5 record cleaning machine for many years. Around the time that my second bottle of "proprietary" fluid was running out, I realised this could be a very expensive cleaning option, so I decided to create my own cost-effective cleaning fluid.

My record collection runs to around 18,000 albums and 6,000 singles and I need to keep the playing surfaces scrupulously clean because I sometimes use an ELP-1 Laser Turntable to play the music. The advantage of this deck is that there is no wear to records whatsoever; the disadvantage is that any specks of dust or dirt in the record grooves sound like a scratch when picked up by the laser beam. Lots of cleaning is thus required which would normally be at huge expense.

Following gentle pressure from many friends, I have produced both 500cc and 1 litre bottles of "ready-to-go" fluid. For anyone who is slightly sceptical, I suggest a 500cc bottle to start with, but you'll get the best value with the larger bottle, which will clean 300-600 LPs. There's also a 250ml "starter bottle" which has a spray nozzle for easy application.
This fluid also works particularly well with a manual/vertical rotating type record cleaner, where the record is rotated in a small bath of fluid. Surfactant ensures that the whole surface is wetted, and high alcohol content dramatically aids the drying process, such that the record can be put away much more quickly than with non-alcohol cleaners. I have tried other compositions but this is the recipe to which I kept returning – because for all except 78rpm records it works best. Please be aware that the alcohol content makes this fluid unsuitable for use on 78's or shellac pressings. I can however make alcohol-free formulations to order, just email me.